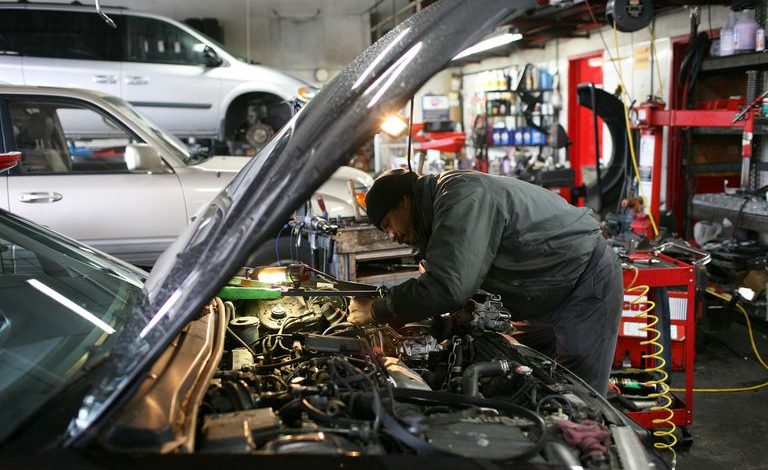 Owning a car doesn't have to be expensive. You need to take some time to learn more about your car and what it takes to keep it running smoothly. This does not mean you have to take a course in auto mechanics or be one of those people who love tinkering.
You can save a lot of money by doings some simple repairs on your own, in your garage – no certificates needed, just your factory service manual. Here are some of the things ehicle repairs and maintenance tasks don't always have to be done in the shop. You can easily do these in your own garage.
#1. Replace Wiper Blades
Your wiper blades may need to be replaced, the best way to tell if yours are due is to press the washer button and turn the wipers on. If they wipe clean and don't squeak or streak, then they are still good if not, it's time to get a new pair of blades.
Choose blades with a higher quality of rubber and better UV protection, they will last long. All you then need to do is to follow the installation instructions on the packaging.
#2. Fix Rough Idle
If you are experiencing some rough idle, a good measure of throttle body cleaner can be enough to return the good condition of your EGR valve. Your car will get its soft humming in no time.
#3. Sway Bar End Link Replacement
If your car develops a clunk after hitting one bump too many, you can fix this yourself. Simply replace the sway bar links starting with the stabilizer bushings.
You will need a special tool you can buy at any automotive tool store and of course, instructions in how to go about doing it from car factory service manuals.
#4. Repairing a Dimming Headlight
Sometimes, you don't have to replace an entire headlight because it looks like it's about to go off. You simply have to clean the ground connection to make the delights brighter.
You can find instruction on how to locate your ground connection in your manual.
#5. Clean the Air/Fuel Intake System
Is your car engine performing poorly?  Is your idle time poor? Maybe your car does not respond the way it should when you put your pedal to the metal.
There are a few things that may be wrong. For instance, you may have soot build up in the intake manifold, intake manifold or throttle assembly.
Your fuel injectors can also be clogged. You need to get your car through a fuel injection cleaning service.
You can buy DIY kits for as little as $35. You might need a screwdriver and some rags to really get at the crud that has accumulated over time.
#6. Replace a Thermostat
If you have a manual you can even easily replace your car's thermostat. A manual will take you through the different steps you need to go through.
#7. Dealing with Blown fuses
Cars run on more than just petrol or diesel, they also run on electricity and as such there are a number of fuses that are in the car. These can blow up but if you don't really know where these fuses are and what they are supposed to be doing.
You need to be able to spot which fuses have blown and how to go about replacing them. Doing it yourself costs less time and money and it is much easier than what some mechanics will have you believe.
#8. Recharging your automobile's air-conditioner
Sometime car A/C systems die and sometimes they just don't give you the kind of cooling you would expect. You can fix this yourself with a cheap, easy-to-use A/C repair kit you can buy.
#9. Changing Spark Plugs
To get the most mileage out of your car, you need to make sure that your spark plugs are up to date. Replacing spark plugs is a simple job.
#10. Changing your engine's Serpentine Belt
These days, automatic belt tensioners are standard in most car. They have also become easier to change if you know what you are doing. If you follow your manual you will be able to change your belt tensioner in 15 minutes or less.
There is a lot more that you can learn from your car's factory service manual and more than a hundred different things you can learn to do on your own without having to take your car to an auto shop or calling out a mechanic when your car starts acting up from how to change your engine coolant, Brake fluid, power steering fluid, actuator fluid and even how to deal with minor tears in your upholstery and even how to repair rust or minor paint damages on your car.